Archive for the 'Photos' Category
Marty KN0CK sent me some details to publish about his great looking miniature HF upconverter board for the RTLSDR, the HF Alchemy DVB-T Active HF Upconverter. It's an incredibly miniature SMT board with an SA612 mixer and SMT oscillator, and with some very careful soldering the entire board fits inside the housing and draws its power from the tuner's USB port. The design upconverts at 120MHz, which is well out of the FM band to reduce the possibility of interference from strong local stations. A 40 MHz low-pass filter on the input further reduces interference. Marty reports it works GREAT!
I also had the opportunity to test an identical dongle and it was very easy to use. It requires a PAL adapter, but most of these dongles need an adapter and this one wasn't difficult to locate; the integrated form factor is excellent. It's very sensitive, a bit more-so than my other tuner module even, and the integrated form factor is perfect. It would be very easy to purchase an active USB extension cable and locate this integrated SDR in a shielded enclosure at your antenna's feed point for even lower losses and versatility.
Update 5/1/2013: KN0CK is releasing a Rev B! I have a teaser.
Thanks for sending this in, Marty!
Categories:

DIY, Electronics, Photos, Projects, Radio
amateur radio, dvb-t, E4000, hf, hf alchemy, KN0CK, RTLSDR, sa612, SDR#, smd, smt, up-converter, Upconverter
Reader Brandy left a comment on my gift oscilloscope with a great cutaway infographic about how oscilloscopes are build from Tektronix.
Check it out in full size here.
I'm getting ready to sell some of my radio collection to make room for new ones, but until that happens I've been under something of a self-imposed moratorium on new purchases. This one came up on eBay a little while ago for a steal so I cheated a bit and had it sent my way.
This is a huge tabletop radio – a "grande" coffee from my local coffee shop is provided for scale. It's a 7-tube model using the tubes 6D6 6A7 6F7 75 76 42 80 – the AM Broadcast Band and the lowest Shortwave band are double-tuned with a single-stage RF amplifier for extra selectivity; on the two higher shortwave bands the second stage of tuning is disabled to increase sensitivity. With an 8″ speaker, it should sound pretty great. There are a couple of minor scratches on the front that will buff out nicely, and it's otherwise original – this should be a nice, fairly quick radio to bring back to life.
Categories:

Photos, Radios and Tubes, Vintage
antique radio, first look, grande, grunow, grunow 750, projects, tube radio, vintage radio, world cruiser
I liked KC3RE's VHF rover enough, I went looking for other interesting car radio installations. There's quite a few!
This Ford Escort has a pretty inconspicuous setup.
This isn't the same vehicle, but it might be similar:
Car blog Jalopnik details a hobbyist who crammed $25,000 of gear into a $500 car. Artcar shares some photos of the interior.
Radio operator KC8HZM put a small antenna on of his Festiva.
AB7FH has a large antenna belonging to N0LRJ's "Radio Active Samurai".
This Toyota Sienna van makes me think my own Honda Odyssey would look better with some large antennas on top of it.
Enthusiast site "Hamsexy" has quite a few good antennas mounted on trucks, including a pretty clean looking Chevy Avalanche setup.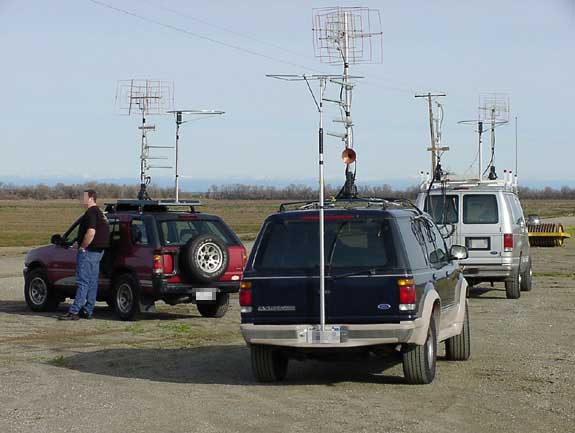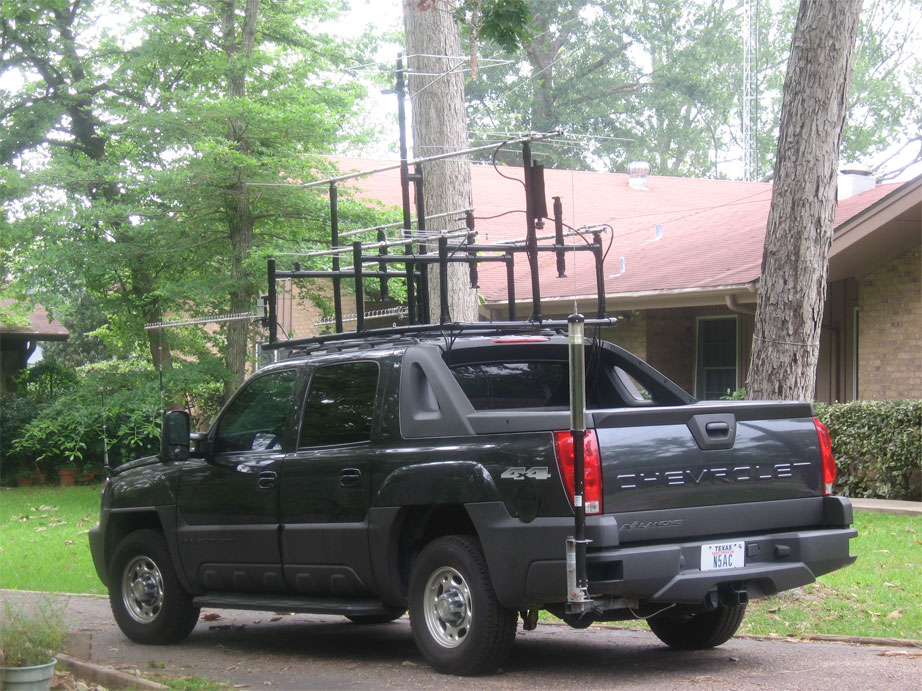 It would definitely be eye catching to see one of these rolling down the street.
Amateur radio operator KC3RE has a pretty impressive VHF rig on top of his Land Rover Discovery.
More photos at the Southeastern VHF Society Conference page.
Last week, SoundTransit started clearing the site of the upcoming Roosevelt Station for the Link Light Rail in Seattle. Rather than tearing down a set of four recent-construction townhomes, the owners of the development elected to purchase and bulldoze a dilapidated site a few blocks away and move the structures in an impressive feat of engineering.
I stopped by around midnight and took some photos. The moving process took a bit over a month, as a small building was demolished to make room for the trucks, the foundations had to be raised and blocked, the trailer assembled, and utilities had to be rerouted during the operation.
July is always a pretty busy month – it's finally summer in the Pacific Northwest and so my attention is divided between my electronics work and spending time in the great outdoors. I have a few things in the pipeline for the month of July which I hope to accomplish.
First, a client has brought me their Grundig 5399U/S radio from 1965 for repair. It has some severe mechanical issues and is currently holding for parts, but it will be featured in a repair article later if they come through.
I'll also be fixing this Bose 901 Series 1 Active Equalizer, brought to me by a friend whose vintage hi-fi speakers started to experience distortion. It turns out modern capacitors can fail too!
Finally, I hope to fix up my early ~1931 General Electric J-105 antique radio. It's in beautiful cosmetic shape looking like it just rolled off the showroom floor, but the electrics are predictably dead after 81 years and will need reconditioning.
Categories:

DIY, Ideas, Photos, Projects
Active Equalizer, Bose 901, EQ, GE J-105, Grundig 5399U/S, Grundig Radio, July Projects, projects, Series 1
I've had this radio on my bench for a little while, and she's finally back up and running – and it plays great! It's a 1938 Philco 38-C-12, special edition to commemorate the crowning of King George IV and Queen Elizabeth.
Since we don't have a King and Queen of the United States, it's fairly obvious this radio isn't from around here. This particular model was made in Canada and brought to the U.S. sometime later, and was actually rediscovered in Florida. I can only assume a retiree seeking warmer weather brought it with them sometime in the last 75 years, and that's how it traveled the long distance itself.
Period Canadian radios came with a Ontario Hydroelectric Power Commission approval stamp, which makes it easy to tell their origin.
The power transformer also gives it away – the 25Hz transformers used in some parts of Canada at the time are considerably larger than the 60Hz transformers found on most American radios. (You can use a transformer rated for a lower frequency, as the greater amount of metal makes it less likely to saturate, but you generally can't use a transformer rated for a higher frequency on a lower one.)
This radio has seen a little bit of service in the past – both can capacitors have been removed; one was cut open and used to hold its replacement in a partial restuff and the other was replaced below the chassis. All in all, though, the radio came to me in very good near-original condition. This radio uses five tubes 6A7 78 75 41 84 – which is a little different from the typical tube line-up, but allows a smaller power transformer to be used as the rectifier can take advantage of the same 6.3V windings for the rest of the tubes, rather than needing a dedicated 5V winding. Its schematic is the same as the American Philco 38-12.
Capacitor replacement was uneventful on this radio, but I also had to replace the tuning capacitor mounting gaskets. These isolate the frame of the tuning gang from the chassis to keep it from shorting out. Over time they shrink and harden. Renovated Radios has many types of reproduction chassis gaskets. The new ones have restored the right tuner height and isolation. This part was pretty labor intensive, but needed to be done for best performance.
You can see in the next shot, the braided ground strap from the tuning gang ready to be tacked back to the RF ground. Desoldering braid works perfectly for this application.
On top of all these problems, the dial pointer shaft was seized up. I removed the shaft, cleaned with 99% isopropyl rubbing alcohol, re-applied lubrication, re-mounted the shaft and restrung the dial cord. This one is very easy – spring mounts on the gang itself, and 1 1/2 turns around the tuning shaft for tension.
As you can see in this shot…the reproduction gaskets don't fit 100% the same way the originals did. They work, though, and this part of the radio isn't visible while it's in the case. So it's time to put it all back together and get the shields on:
Back in the case:
Fully serviced, this radio will continue playing for many years!
Feel free to leave comments and questions.
Categories:

Photos, Projects, Radios and Tubes, Vintage
1938, 38-12, 38-12A, 38-C-12, 38C12, american radios, Antique, antique radio, Coronation, King George IV, philco, Queen Elizabeth, repair, restoration, tube radio, vacuum tube
I'm working on a radio for a client, and it's nearing completion, but I ran into a rather unexpected issue that was worth sharing on here. The radio itself is a Farnsworth K-262P, a radio/phono combination from 1951. The radio has seen some service in the past (more on that when I do a full write-up), but all of the capacitors had been replaced with Cornell Dubilier brand dipped film capacitors. These are modern construction from the 1980s or so – not the old waxed paper capacitors common up through the 1960s.
A shockingly high number of these dark red capacitors have failed completely. They're modern construction, but apparently not as modern as we're using today. I've been replacing them with modern metalized film capacitors (rated at 400-630V) which are being run far below their rating – I expect it will be many thousands of hours of operating, if ever, before it needs to have signal capacitors serviced again.
Categories:

Commentary, Electronics, Photos, Projects, Radios and Tubes, Vintage
bad capacitors, capacitors, Cornell Dubilier, Farnsworth, K-262P, photos, repair